Description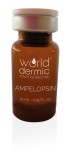 Ampelopsin (Fat Reducing) by World Dermic
The active ingredient of the Ampelopsin, extracted from Myrica Cerifera L., acts by significantly reducing adipogenesis and lipogenesis and increasing lipolysis (the breakdown of fats and other lipids by hydrolysis to release fatty acids).
The Ampelopsin, is a new high-end cosmetic ingredient, provides a solution to problems arising and / or related to the accumulation of fat in adipose tissue, thanks to its applications in all types of treatments (prevention, treatment and maintenance).
Protocol
It can be applied deeply on the area with adipose or superficially with microneedling technology such as dermaroller, dermapen or aparatology. Electroporation, iontophoresis, ultrasounds, thermotherapy, vacuterapia, galvanic and continuous currents or radiofrequency, among others.
Indications
Localized fat deposits.
Triple molding action.
Decreases adipogenesis, lipogenesis and stimulates lipolysis.
An average of 8-10 sessions per week is recommended.
Mannitol
Dihydromyricetin
Sodium Hydroxide
Presentation
10 ml vials.
Package of 5 vials.
World Dermic ® Committed to the beauty and well-being of people. Made in Barcelona, Spain.