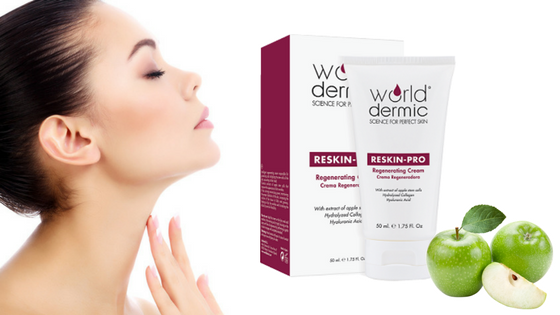 If you want to get a care and radiant face, it is not enough to just wash your face with a soap according to your skin type, but it is necessary to incorporate into your routine special and quality products for your skin. Reskin-Pro regenerating cream is ideal for the benefit of your skin, as it is responsible for protecting and multiplying, as needed, the skin stem cells. In addition it contains a peptide that allows to reduce the wrinkles of expression eliminating the signs of age in only 7 days.
How to use Reskin-Pro Regenerating Cream?
For a correct use of this product, Reskin-Pro facial regenerating cream should be applied to the face, neck and neckline at night and during the day.
It should be applied deepening the areas of expression wrinkles and it is important to perform it by means of a massage on the complexion with circular movements so that the cream acts better and there is a total absorption.
It is strongly recommended that this skin regeneration treatment be accompanied by Worlddermic brand conductive and post-peeling gel products.
Benefits of Reskin-Pro Regenerating Cream
Over the years the stem cells of the body are being reduced and, therefore, are losing their ability to repair the skin. Reskin-Pro regenerating cream is a multi-active cream that is formulated from the contents of plant stem cells, specifically from a variety of apple. This allows the cell renewal rate to be maintained in the correct coefficient.
Keeping the stem cells of the skin in good condition is the basis so that they can keep the genetic information without alterations and can exercise their functions in the most efficient way.
Its components contain hyaluronic acid, hydrolyzed collagen and aloe vera.
It is rich in principles of a mucilaginous nature and therefore generates a continuous rehydration of the skin.
It is very advisable to use it in your beauty ritual, since it is essential to keep the face hydrated.
Take care of your skin and worry about keeping your complexion silky!
Lee este articulo en Español aqui.